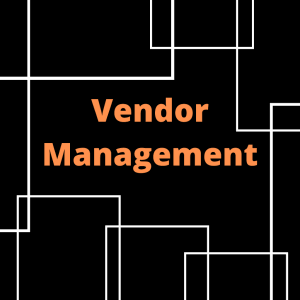 Vendor management helps organizations control costs, reduce risks associated with vendors, ensure good service, and derive sufficient value from vendors over time. 
This article will explore what the vendor management process is, how it can be improved, and what tools are needed to implement it in your business. Vendor management is the process that regulates the handling of external suppliers and suppliers in the procurement process as well as the management of these suppliers. Suppliers can be sellers, external or internal suppliers, or a combination of both.  
Business partnerships with sellers are critical, and introducing an effective system for dealing with them will lead to an increase in revenue. Vendor management helps companies establish relationships with third-party vendors as a critical element of their business strategy and management process. 
While working with IT providers can help to reduce the IT burden somewhat, and it can also raise concerns, particularly data risks and security. 
Vendor management can be achieved by controlling the number of known vendors who have a collaborative plan and balance quality and costs. A robust IT strategy for managing companies can help companies determine which providers best suit their needs while keeping in mind the needs of the company's customers, such as security, quality, reliability, cost, performance, safety, and customer satisfaction.  
Recording the current logs of your suppliers in a supplier management system allows you to track the performance of suppliers and compare them with the account specified in the contract. Vendor management can help you track and provide data about the vendor risk, which can help you reduce the risk or choose another provider. It makes it easy to follow performance, verify supplier certification and qualification, and possibly get an idea of the supplier's financial status to protect your organization further. 
Through frequent collaboration and continuous monitoring, it enables the constant development of third-party providers. It is about working with sellers to conclude mutually beneficial contracts that ultimately strengthen your business.  
Since value takes precedence over cost, supplier management is about transforming your organization's supplier relationships from simple supply and demand to mutually beneficial partnerships. Prioritize building long-term sales relationships over short-term profits. Vendor Relationship Management (VRM) is effectively geared to creating value and giving your company a long-term competitive advantage.  
If a genuinely effective vendor management process helps you identify the best vendors, then it's worth the effort for the long-term benefit. 
IT Vendor Management is a way for organizations to control their costs by increasing their service level and concluding contracts with external distributors. IT consists of managing the performance of the vendor relationship, evaluating the vendor performance, translating this evaluation in terms of return on investment, and evaluating and implementing measures that contribute as much as possible to mitigating the risks associated with working with an external vendor. Effective IT vendor management requires that you achieve the most significant potential benefit without exposing your business to additional unforeseen risks. 
Vendor Risk Management (VRM) is evaluating the business relationships between the vendors and their customers and their suppliers. Another way to classify sellers is to collect information about their business history, business model, and practices.  
An important stakeholder in a successful business is the seller with whom the company works, who takes great care and consideration to ensure that he maximizes the value he receives from the relationship with that seller. A VRM strategy should include a contract outlining the existing relationships and business of the providers. There are some essential concepts and practices introduced during the evaluation of suppliers in the procurement process.  
At NetConnect Global we assist organizations in managing the whole process of the Projects – from Vendor onboarding – Procurement–Billing-Invoicing-Payments-to Revenue on one single platform. We assist in automating the organization's vendor's interaction and project management journey on one singular platform; it helps them in bringing harmony, accountability, and strategic value to the system. 
About NetConnectNetConnect Global is a Technology Solutions & Services organization that is in the business of helping customers in extracting more excellent value from their Operations. From helping our clients run their Technology to using our Technology to help them run their business, we are at the cusp of a significant transformation in creating value. With a track record of over 20+ years, robust financials, the trust of over 100+ customers, domain expertise, and an incredible team, we are uniquely positioned to be the technology services partner of choice. 
Our flagship products, Ops360, Asset360, and Bill360, are a must for any budding organization. Visit our website to learn more about NetConnect Global, and do not forget to reach out to us for any query. Let us help you develop a Digital Transformation Strategy! 
Visit us at www.netconnectglobal.com. 
Reach out to us: sara@netconnectglobal.com