In today's world, every industry is evolving and the main reason for this evolution ion is technology. Choosing a career in the tech sector can be tricky. A sector that itself is the reason for the evolution of other industries, people don't want to choose something that's getting obsolete. One of the most in-demand career options in this field is of a full stack developer. A Java full-stack developer is an individual contributor who does the work of many professionals. They develop websites and applications, and they also interact with clients to gather requirements. Full-stack is a combination of both front-end and back-end development. 
Here are some reasons for full stack developers to be in demand –
ONE PERSON ARMY: As we have already talked about, a full-stack developer is someone who goes beyond traditional web design. A good idea about design structure and user-friendliness are some of the most sought-after qualities in an ideal full stack developer. Full-stack developers are in demand because of their all-around dependability and knowledge of the entire web design and development process. 
RESOURCE OPTIMIZATION: Theoretically, a larger team with specialized developers is a great concept. However, team management and cohesiveness are not just a long but also a costly process. With a full stack developer on board, one can save a lot of time that would otherwise be wasted in the delegation, discussion, and reviews. Similarly, an efficient full stack developer can give better output than an average team of front-end and back-end developers at a much lower cost. 
EASY SWITCHING ABILITIES: A full-stack developer has a piece of comprehensive knowledge and expertise in the entire technology related to complete web design and development. This enables them to easily switch between front-end and back-end technologies which help in reducing the complexity of a project. Their knowledge comes as a boon as they're able to understand every problem of any domain.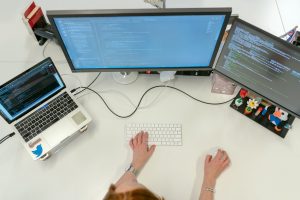 QUICK UP-GRADATION: One of the essential skills one develops as a full stack developer is easy to grasp of concepts and technologies. Web development is a continually changing process. One needs to quickly adapt and learn about new updates and technologies. Generally, a full-stack developer is known for quickly adapting to new upgrades. In changing technological scenarios such as these, easy adaptability and upgrade is the future. 
Is full-stack developer a good career 2021?

 
Like every other IT sector job, full-stack developer jobs are rapidly increasing. During the pandemic, the demand for full-stack developers is going to rise by 20% in the coming years. 
In order to understand how lucrative a career in full-stack development can be, presenting to you some of the facts regarding a career in full-stack development – 
IMMENSE GROWTH: A recent report suggests that there are 1.4 million unfilled jobs for Full Stack developers in the USA. A full-stack developer is someone who has a broad vision and can be responsible for every aspect of the project. Their multi-skilled abilities make them high in demand for jobs. 
HIGHLY FLEXIBLE: By 2030, most of the IT jobs will be done from home. A full-stack developer has the expertise and knowledge of handling the entire project by themselves. This gives them high flexibility and opens up great avenues for them in the freelance sector. 
QUALITY EMPLOYERS: Not only the role of a full-stack developer is well-paid, but it is also one of the most sought-after jobs by reputed organizations. Big organizations like Apple and General Assembly are always in the lookout for highly skilled full-stack developers. 
How much does a full-stack developer make in India?

 
It's no secret that salaries increase with the increase in a candidate's work experience. So, a full stack developer can make good money with some years of experience in their kitty. The entry level average salary for a fresh graduate is around INR 375,000 per annum. If you have an experience of 1 to 4 years you can easily make around INR 553,006 annually. Further, if you have mid-level experience of around 5 to 9 years, then you can expect an average annual salary of around 12 10 14 lacs in India 
HIGH SALARY: As per indeed.com, in the US, the total income per income for a Full Stack developer range from $62.1K to $105K. As per glassdoor.com in India, the salary can range from Rs 351,000-1,000,000 for an experienced developer.