What is smart street light system?

 
Currently, with the rise in demand for power and the significant gap between demand and supply, it has become super critical than ever before that we shift towards solutions that help us conserve and use the resources in a better way. One of the initiatives taken is the shift towards smart cities.   
One of the major application for smart street light is in Smart City. A smart city is a technologically modern urban area that uses different electronic methods, voice activation methods, and sensors to collect specific data. The information gained from that data is used to manage assets, resources, and services efficiently. Street lighting is the backbone of a smart city. Street lights are everywhere, and so much so that we don't even notice or acknowledge them sometimes, but lighting can account for 10–38% of the total energy bill in typical cities worldwide.  
Because of its strategic importance for economic and social stability, street lighting is especially important for public authorities in developing countries like India. Each year, inefficient lighting wastes significant financial resources, and poor lighting creates hazardous conditions. Energy-efficient technologies and design can significantly reduce street lighting costs. 
The Smart Street Light System, an intelligent Street Lighting Control System that uses AI (Artificial Intelligence) technology to deliver automated services, is one such technology. A smart street light is made up of a network of streetlight lamps that can communicate with each another and send lighting data to a central base. 
The central base manages and transmits the relevant data to a secure server that captures the data and presents it in a web browser dashboard. It allows remote control over street lights while keeping track of electrical power consumption in the lamps and the driving circuits. Monitored street light networks will help reduce maintenance costs as every lamp has a unique ID and can be pinpointed.  
These cost savings may also enable municipalities to expand street lighting to new areas, increasing lighting access in low-income and other underserved communities. The primary component of an smart street lighting system is the intelligent lamppost, which is made of the three following elements:  
LED / HID lamps with the highest efficiency. 

IoT-based end to end communication to create a digitally monitored, secure, and reliable network. 

Addition of various intelligent sensors to monitor weather conditions, lamppost inclination, air pollution, and more.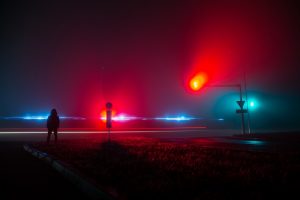 How do you make a smart street light?




 
Street lights can be made intelligent by attaching cameras or other sensors that detect movement. The street lights can communicate with one another thanks to additional technology. 
Infrastructure 
The main elements of a street lighting system are  
Lamps

 
Lumiaire

 

Light bulbs

 

Lamp driver (ballast)

 
Streetlight poles (with 1, 2, 3 or more lamps)

 
Power cabinet (feeder pillar)

 
What are the advantages of smart street lights?

﷟HYPERLINK "https://www.quantela.com/whitepaper-the-benefits-of-led-and-smart-streetlights"

Smart lighting is revolutionizing the way cities and utility providers have witnessed street lights. Smart lighting solutions represent an exciting opportunity for cities or communities to switch from simple LEDs to energy-saving and cost-effective solutions. Since a smart streetlight is a public lighting fixture that incorporates technology, such as cameras, light-sensing photocells, and other sensors to introduce real-time monitoring functionalities, it has multiple benefits over simple LED lighting systems.  

 
Some of the main advantages of the Smart Street Light System include:  
1)Automatic control: No human interference is required to turn these smart street lights on or off because their light-sensing photocells enable real-time remote monitoring functionalities.  
2)Cost-effective: Not only do the smart street lights save energy but they are also cost-effective because of their lower maintenance cost.   
3)Improve energy efficiency: IoT connectivity of smart lighting allows it to collect, monitor, and send real-time usage data so civil authorities and city planners can better utilize actionable data to improve lighting infrastructure and save lighting energy.   
4)Enhance security, public safety, and reduce crime rate: Well-lit smart cities increase public satisfaction by promising a secure living atmosphere. Additionally, street lights with video cameras can aid in solving crimes, as well as deter new crimes from occurring.   
5)Smart parking control: Smart lighting sensors help provide parking information on parking spaces in densely-parked areas and vehicles violating parking regulations without deploying any personnel on the streets.  
6)Emergency response: Street lights can be activated with the assistance of emergency response operators to help guide emergency workers to specific locations. Lights can also flash in sequence or change color to indicate emergency evacuation routes during natural disasters such as floods and tornadoes. 
7) Environmental monitoring: Street lights can also be equipped with sensors that identify toxic chemicals, pollen counts, or air pollution levels. As a result, smart street lights have less CO2 emission and hence a reduction in light pollution.  
8)Warnings and alerts: Smart Street lights equipped with speakers can be used to warn people in the vicinity of storms or other imminent dangers.  
Along with many advantages to the public and street light providers, smart street lights also offer different revenue opportunities, such as leasing poles for digital signage or other services, being the backbone of a smart city. Therefore, Smart Street lights are the new wave of street lighting.