World Scenario:
The smart lighting market is estimated to grow from USD 13.4 billion in 2020 and projected to reach USD 30.6 billion by 2025, at a CAGR of 18.0%. The major factors driving the growth of the market include the advent of integrated lighting control systems, upcoming smart city projects in developing economies, increasing adoption and decreasing cost of LEDs, integration of lighting solutions with smart devices, and growing awareness about energy savings among consumers and governments worldwide.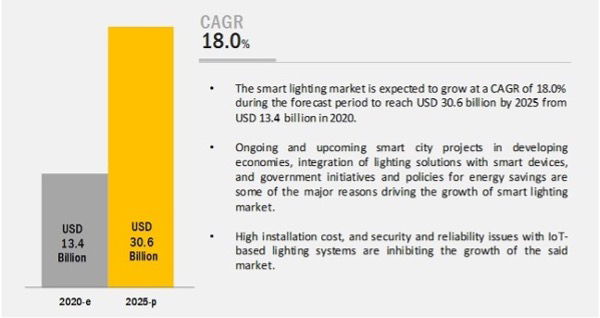 "Lights & luminaires to account for larger share of smart lighting hardware market during forecast period"
The smart lighting hardware market for lights & luminaires is expected to hold the major share during the forecast period, mainly due to the advent of integrated lighting controls with lamps and luminaires. The integration of lighting control products with luminaires enables the embedding of software on microcontrollers, thereby adding intelligence to the entire lighting control system. Such lighting systems offer sensing and control at a spatial resolution, which would drive the demand for smart lights and luminaires during the forecast period.
"PoE protocol to exhibit highest growth in smart lighting market for wired communication technology during forecast period"
The Power over Ethernet (PoE) wired communication technology market is expected to grow at the highest CAGR during the forecast period. The growth of the PoE protocol segment is driven by factors such as increasing penetration and decreasing cost of LEDs, growing adoption of PoE lighting solutions in commercial and healthcare applications, and rising need for cost-effective lighting solutions.
"Outdoor application expected to grow at a higher CAGR in smart lighting market during forecast period"
The smart lighting market for outdoor end-use application is expected to grow at a higher CAGR during the forecast period. This growth is mainly due to the increasing focus on enhancing connectivity by constructing roads and installing smart lights for these roads, especially in the developing countries in the APAC region. This, in turn, would spur the growth of the outdoor market.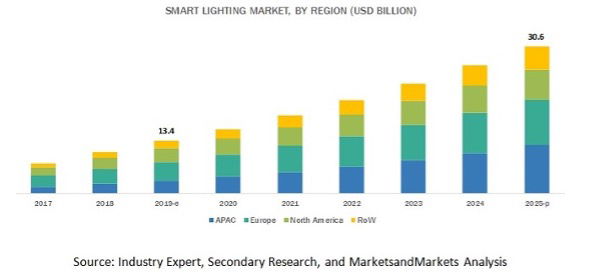 Signify Holding (Netherlands) is an industry leader in the lighting market space.
The company's market experience and brand name allow it to capitalize on the fundamental market dynamics in the lighting industry and deliver innovative solutions that create value and ensure its growth. The company has a huge advantage over its competitors in the smart lighting market due to is its extensive product portfolio, with lighting systems compatible with various connecting technologies ranging from DALI, KNX, and BACnet to ZigBee and EnOcean.
The company aims to further invest in connected lighting systems to win contracts related to the supply of connected lighting systems and other lighting control equipment. It also adopts the strategy of acquisitions. For instance, in October 2019, Signify acquired Cooper Lighting Solutions from Eaton. This acquisition would strengthen its position in the North American lighting market. Also, in April 2019, it acquired WiZ Connected—a developer of the WiZ Wi-Fi-based connected lighting ecosystem. This acquisition will allow Signify to extend its leadership position in the Wi-Fi-based smart lighting market.
India Scenario:
In terms of revenue, the India smart lighting market was valued at INR 7.63 billion in 2018, which is expected to reach INR 80.56 billion by 2024, expanding at a CAGR of ~48.87% during the forecast period.
Digitization is changing the way consumers, government and businesses interact with the physical world. The lighting industry is expected to be the next digital disruptor, owing to the increasing adoption of Internet of Things (IoT).
Smart lighting is an emerging technology that is replacing conventional lightings like halogens, CFLs, and incandescent bulbs with efficient LED lights and sensors for energy conservation. Smart lights have automated controls which make adjustments depending on various conditions like availability of daylight.
Market Insights
Favorable government initiatives like the Smart Cities Mission (SCM), increasing demand for intelligent solutions for street and office lighting and evolving lifestyle of Indian consumers establish a positive environment for the growth of the smart lighting market in India. The government has initiated the smart street lighting installation program in all major cities of the country. The development of third-party apps, voice assistants, and new product formats that connect with people are further driving the smart lighting market.
Although the rapid growth in digitization offers ample opportunities, significant barriers like lack of interoperability and standardization in smart devices, high costs, and complexity in system configuration tend to slowdown the adoption of smart lights in India.
Industry players are moving towards enhanced technologies like Light Fidelity (Li-Fi) and solar-based smart lighting that is expected to transform the smart lighting market.
Segmentation Insights
Based on application, the smart lighting industry can be segmented into smart outdoor and smart indoor lighting. Street lights comprise the most substantial portion of the outdoor lighting segment. Smart outdoor lighting finds its application in industrial and commercial spaces. Smart indoor lights, on the other hand, have their application in smart residential homes.
Based on the lighting source, liquid display bulb, down lights and batten lights are the major segments. DMX, DALI, and power over Ethernet are major wired lighting technologies, whereas Zigbee and Bluetooth are major wireless technologies
Competitive Insights
The industry is fragmented but comprises a few well-established players like Wipro, Philips and Syska. As smart lighting technology is relatively untapped, new players like Xiaomi, Svarochi and Halonix are rapidly gaining market share. The industry is attracting investments from foreign players offering other smart devices.
Major Companies
Bajaj Electricals Limited
Wipro Lighting
Philips India Limited
Syska LED Light Private Limited
Osram India
Schneider Electric India Private Limited
Samsung India Electronics Private Limited
Xiaomi Technology India Private Limited
Svarochi Lighting
Halonix Technologies Private Limited
General Market Segmentation :
Market, by Offering
Hardware

Lights & Luminaires
Lighting Controls

LED drivers & ballasts
Sensors
Switches

Manual on/off switches
Electronic switches

Dimmers

Wired dimmers
Wireless dimmers

Relay units
Gateways

Software

Local/Web Based
Cloud Based

 Services

Pre-installation Services
Post-installation Services
By End-use Application
Indoor

Residential
Commercial
Industrial
Others

Outdoor

Highways & Roadways Lighting
Architectural Lighting
Lighting for Public Places
By Communication Technology
Wired

DALI
PLC
POE
Wired Hybrid Protocols

Wireless

ZigBee
Bluetooth/BLE
EnOcean
Wi-Fi
6LoWPAN
Wireless Hybrid Protocols
Note: Lighting controls includes smart switches market, smart light bulb market, and smart dimmer market.
Asia Pacific (APAC) is expected to be the fastest-growing market for smart lighting systems during the forecast period. Increasing construction activities in Asia Pacific are contributing significantly to the growth of the smart lighting market in the region. There are several new opportunities for energy-efficient lighting and advanced lighting systems in the next few years as ~200 million homes 18 million homes are expected to be constructed in China and India, respectively.
Major Opportunities:
Growing inclination towards energy efficient lighting solution is the major opportunity in market. Utility operators and building and industrial energy managers are inclined toward using energy-efficient lighting solutions due to various reasons, such as the increasing price of energy, growing focus on reduction of carbon footprint, and rising demand from customers for energy-efficient lighting products.
Major Technologies:
Wired communication technology is widely used in smart lighting market. Wired communication technologies of the smart lighting market include Digital Addressable Lighting Interface (DALI), Power-line Communication (PLC), Power over Ethernet (PoE), and various wired hybrid protocols that include various company-specific proprietary protocols. Wired communication protocols are preferred where performance and reliability are crucial.
Smart Lighting Market and Top Applications:
By application, the smart lighting market segmented as below:
Commercial
Residential
Industrial
Highways and Roadways
Commercial
Commercial end users include offices, retail shops, malls, and hospitality companies, among others. Reducing energy consumption has become a major objective for the owners of these commercial buildings and stakeholders in these projects. Replacing existing lights with more energy-efficient lighting sources, for example, LEDs, is one of the ways to reduce massive energy consumption; however, it is a small-scale solution. On a large scale, energy reduction can be achieved by turning the lights off when not in use, optimizing available light levels to suit workers' needs, and reducing the overall demand for lighting products. These measures come under smart lighting arrangement, which is the best way to ensure automatic reduction in energy consumed in lighting.
Residential
Smart lighting solutions for residential buildings are expected to have a huge potential in the future. With the advancements in technologies, rising awareness about energy-efficient solutions, and government policies, this application is expected to witness a high growth rate. However, the high installation cost of these products is a major constraint for the indoor application of smart lighting systems. Smart lighting control products are more expensive than conventional lighting control products, which makes it difficult for individual buyers to purchase these products. However, countries with a high per capita income would implement lighting control solutions for residential applications.
Industrial
The industrial indoor application includes lighting in production halls, warehouses, offices, representative rooms, corridors, and outdoor areas. In industrial settings, safety is a primary concern, which can be enhanced using appropriate lighting. Proper lighting and adequate illumination can also contribute to maintaining high worker productivity. Inappropriate lighting setup can lead to excessive lighting/illumination, leading to energy wastage. Industrial end users can save on lighting expenses and conserve energy by implementing controlled lighting using intelligent lighting control systems.
Highways and Roadways
The highways and roadways lighting segment accounts for the highest energy consumption compared with the other outdoor lighting applications. Street and traffic lights are the major end users of light switches and dimmers. There are different types of light sources used for lighting applications in highways and roadways; hence, these light sources need different lighting control systems. Every smart lighting control system project in the streetlights segment requires specific solutions that are suitable for a particular road. Different types of roads, such as streets, main roads, and highways, need different lighting control strategies, leading to a requirement for multiple solutions to ensure maximum energy savings. Scheduling, occupancy, and daylight harvesting are the most prominent light control strategies used in these application areas.
Smart Lighting Market and Top Hardware
Top Hardware Covered in Smart Lighting Market Segmentation are:
Lights and Luminaires
LED Drivers & Ballasts
Sensors
Switches
Dimmers
Gateways
Lights and Luminaires
Lights and luminaires are the top contributing hardware components of smart lighting systems. These components broadly include smart bulbs, lamps, and luminaires. The performance and characteristics of the light source used in lamps depend on the lighting task being performed. Choosing the right lamp type helps save energy. Smart bulbs are usually internet-capable light bulbs, allowing lighting to be customized, scheduled, and controlled remotely with the help of a mobile app or a home/building automation hub. A fixture consists of embedded associated lighting controls that enable these systems to function intelligently.
LED Drivers & Ballasts
LED drivers and ballasts are important components of smart lighting systems. An LED driver is an electrical device that regulates the power supplied to LED bulbs. A rise in internal temperature during LED operations can lead to a rise in current, which, in turn, leads to a further increase in temperature. Failing to limit this loop can lead to the dysfunction of an LED. Prevention of such damage is one of the tasks performed by a driver.
Sensors
Currently, sensors are the most common lighting controls used in across different applications. Common types of sensors are used in lighting control include—occupancy sensors, vacancy sensors, and photosensors. A complete sensor system consists of a motion sensor, an electronic control unit, and a controllable switch/relay. In a lighting control and management system, a sensor is a control device that senses the occupancy of a certain area or space and automatically turns the lights on or off.
Switches
Switches are one of the most common interfaces between a lighting system and an occupant. They are mainly used to operate and control an electric light. A switch can be permanently connected or can be installed on electrical outlets, depending on its application or use. New switches offer a wide range of controls, such as full-range dimming, a delayed fade from on to off, and dimmer switches that remember a range of preset settings.
Dimmers
Dimmers control the brightness, wattage, and output of light lamps and luminaires. The dimming requirements of a lighting source depend on its individual characteristics. Dimmers are used for different purposes and provides more flexibility for users. They save energy and help in extending the lives of the light sources.
Gateways
Gateways are devices that act as interfaces for controllers in different networks using various protocols. Gateways act as protocol translators to ensure system interoperability. A gateway contains devices such as impedance matching devices, fault isolators, rate converters, and protocol translators to provide system interoperability.