OPS360 - NCG Workforce Management Solution
Ops360 is an end to end total workforce management solution that helps you manage a complete resource lifecycle from vendor management. Manage project budgeting, resource requisition tracking, HRIS, invoicing, and much more with custom dashboards for each business user with key business intelligence.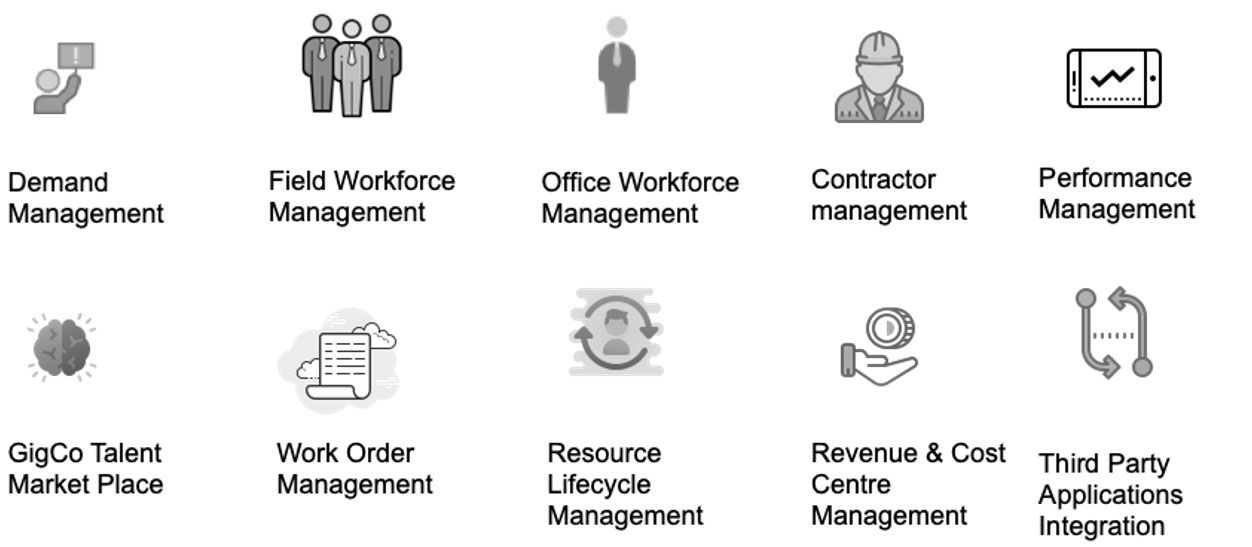 Challenges Procurement Recruitment Human Resource Operations Finance
Too many requests over too many verticals
Is your team overwhelmed with requests that span several different job types and skill sets?


No end to end Solutions
The current Workforce Management Solution software available in the market only offer limited solution for one or more segment and does not cover all the critical verticals.


Time Sheet and Attendance Tracking Manual time and attendance tracking are very open to inaccuracies.


Contractor retention on timeline-based projects
While staffing for a project on a tight timeline, there isn't much room left for any of your contractors to leave the project. It requires more time to find and train someone new.


On-boarding and compliance
When on-boarding contractors, it is imperative to classify them correctly. Companies are often fined for misclassifying independent contractors.


Managing rising costs of labor Adoption of workforce management solutions in countries with quickly rising costs of labor.
Vendor Program Vendor On-boarding, Complete Performance Management, Day to day Tracking, Vendor Invoicing & Payment and Reverse Invoicing for Projects.


Deploy and Re-deploy
Deployment process of Contingent workforce, Project allocation, Partner Skill Inventory, Internal Skill Pool availability, Assignment Change Process and Exit Management.


Score
Get Vendor Scorecard and clear visibility in terms of Sourcing, Interview Process & Scheduling, Offer, BGV, Resource On-boarding, Assignment and Exit. Demand Library Track entire organization demand through the tool.


Plan Skill Pool Complete visibility of skill pool across projects & Geo's, Plan & Design next Project fulfillment based on tool audit data,3-way communication between Client, VM Team and Vendor.


Data Record
Manage Entire Contract workforce historic data, SOW & Contracts Repository, Contractors work utilization and time-sheet.


Reports
Ops360 provides standard and Customized reports for all your processes and sub processes for Contract Workforce.
Platform
Ops360 provides complete Recruitment Process life-cycle platform for Permanent and Contract Work Force.


Stakeholder Connect Connects & Tracks 3 main stakeholders, Hiring Manager, Recruitment Team and Vendors.


Scheduling
Based on JD, the tool sorts profiles, Multiple Round of Interview Scheduling
is done through the tool.


TAT and Feedback Entire feedback mechanism including final round select/ reject is captured, Email notification to 2 main stakeholders, Stakeholders performance measured based on TAT and Technical feedback is stored at Candidate level.


Goal Setting
Offer generation, Approvals, Employee On-boarding and performance Goal Setting is managed with Optimum Utilization tracking.


Performance Report Vendor Performance tracking, Standard and Customized Reports to track, enhance Internal and Vendor Performance.
Ops360 is the Golden Source of Information/ data for all employees / Contractors irrespective of the mode of hiring.


Project and Cost allocation of resources as per Cost Center/ Business Unit/ Group Function.


Manage & Map entire skill Inventory for the Organization.


Map complete employee and Contractor Life-cycle starting from BGV till Exit Process.


Historic Information and Redeployment Process.


Customized MIS.
Resource Performance cycle for
Permanent, PS Contractors, MS Contractors and third Party.


Cost Construct
Project wise Budgeting, Managing PO & PO utilization, Manage Project Spend and Map every Cost Centre.


Data
With complete Project Data can plan better resource utilization and redeployment, With Vendor Tracking and Performance Data, have a predictable Project Outcome.


Attendance
Timesheet Entry, Tracking, Approval and Invoicing.
Vendor Invoicing, Approval and Payment Process management, Reverse Invoicing to minimize time Expense and Service Invoice tracking.


Cost Center/ Business Unit/ Department wise Employee Financial Information.


Budgeting and Provisioning, Headcount Reporting for Permanent and Contract.


Management Reporting and Forecasting
Select Date and Time
Schedule Appointment