How has digital transformation enabled enterprises to achieve and enhance the quality of life in smart cities and improve all other vital systems?
Digital Transformation has helped the top sectors of the industry to do well. It has enabled enterprises to achieve and enhance the quality of life in smart cities and improve all other vital systems.
We all know and are aware that digital technologies to change traditional and non-digital business processes and services, or to develop new ones, to meet changing customer and market expectations, is known as digital transformation. This process completely transforms how businesses are run and how customer value is supplied. Customer expectations have altered and increased due to the rise in technology. Digital Transformation enables enterprises to achieve these expectations by delivering goods and services quickly, enhancing the quality of life in smart cities, and improving all other vital systems. The industry's top sectors, i.e., Finance, Banking, Retail, and Healthcare, have been doing this for a long time.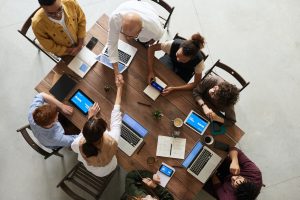 The market for digital transformation is expected to grow at a CAGR of 22.1% from 2017 to 2028, reaching USD 3,546.80 billion. The rising adoption of cutting-edge technologies like IoT, AI, robotics, and others across a range of industry verticals is a significant contributor to the rise of the digital transformation market. As a result, a 2.47% yearly growth rate is predicted for the financial industry, and the global market for digital health is anticipated to reach USD 1.5 trillion by 2030, growing at a compound annual growth rate of 27.7% between 2022 and 2030.
Industries on the verge of digital transformation
Other than the industries mentioned above, BFSI, eCommerce, life sciences and pharmaceuticals, government and defense, media and entertainment, IT/ITeS (Information Technology/ Information Technology Enabled Services), energy and utilities, telecommunication, and manufacturing are some of the critical industries adopting digital transformation solutions and services. As a result, these sectors will also see a rise in growth and help them grow digitally quickly in the upcoming years. 
The process of digital transformation has quickly advanced during the last three decades. The concept has evolved throughout time and will continue to do so, from simple online communication to the Internet of Things & Machine Learning.