Supercharge your career as a Talent Acquisition Specialist
Teams tasked with hiring new employees ought to be seen as crucial business partners by any corporation that wants to put its people first. A talent acquisition specialist is a type of human resources (HR) specialist who may work in an HR department of an organization or work independently. The advantages of being a TA include receiving comprehensive training and opportunities to learn from colleagues, growing and developing your skills, and fast-tracking results, recognition, and progression. With dedication and the right attitude, recruitment is a profession where you can progress quickly.
Career Road Map of TA @NCG
Most of a talent acquisition specialist's job is done indoors, contacting potential applicants via the phone or the internet. In addition, they collaborate with other departments in hiring new staff, such as operations, human resources, and others, and act as a point of contact for these divisions. As a result, as you progress through our organization, your career roadmap as a TA @NCG will be streamlined and appealing.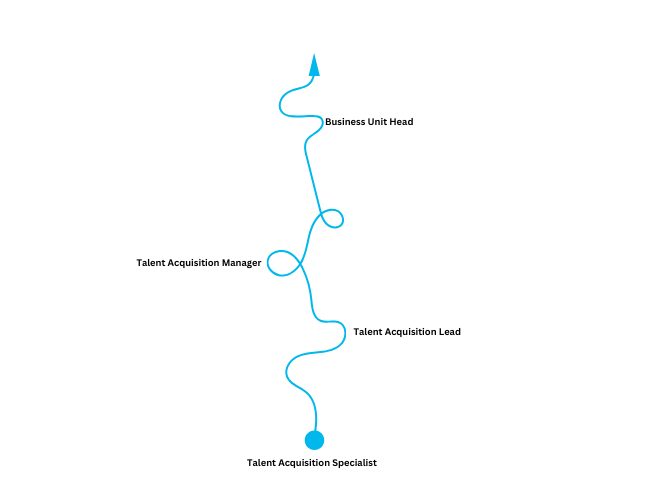 TA Fresher Job Description
TA Experienced Job Description
TA Fresher Job Description
Location: Bangalore
Notice Period: Immediate to 30 Days
Mode: Work from Office ( Bannergatta Road )
Experience: 0-2 Years
We are seeking a skilled talent acquisition specialist to source top-notch candidates for our company. In this role, you will be responsible for determining job requirements, screening candidates, and forecasting hiring needs. You may also be required to promote our company's brand with recruitment initiatives and events.
To ensure success as a talent acquisition specialist, you should possess extensive experience as a recruiter and the ability to attract the perfect candidate for each role. Accomplished talent acquisition specialists are attuned to the hiring needs of their company and contribute to its success by hiring talented and reliable candidates.
Talent Acquisition Specialist Responsibilities:
Liaising with internal departments to determine recruitment needs.

Determining selection criteria, hiring profiles, and job requirements for vacant positions.

Sourcing potential candidates through online company career portals, recruitment sites, job boards, and social platforms, as well as print media, posters, and flyers, when required.

Managing hiring processes via electronic Applicant Tracking Systems.

Evaluating applications and screening candidates via calls or emails, as well as facilitating pre-interview assessments.

Compiling interview questions and conducting in-person or video call interviews with shortlisted candidates.

Preparing hiring forecasts as part of the company's strategic planning.

Documenting processes and fostering good relationships with potential candidates and past applicants.

Developing hiring strategies and procedures in line with industry trends, as well as keeping informed of advancements in the field.
Talent Acquisition Specialist Requirements:
Bachelor's degree in human resources management or similar.

Freshers / 1-2 Years experience as a Talent Acquisition Specialist

Certification obtained from the HR Certification Institute would be advantageous.

Proficiency in Tech Skills like Java, DevOps, and Cloud will be added advantage.

Ability to liaise with internal departments and develop hiring strategies and profiles.

Advanced knowledge of effective hiring platforms that attract suitable applicants.

Exceptional ability to screen candidates compile shortlists and interview candidates.

Experience in creating awareness of the company brand and establishing professional relationships with candidates.

Proficiency in documenting processes and keeping up with industry trends.

Excellent interpersonal and communication skills.
TA Experienced Job Description
Talent Acquisition Specialist Interview Questions
There are no questions matching your query or you do not have permission to read them.
Apply for Talent Acquisition Role
Last date of Application – 13th October, 2022
Walk-in Interview date – 15th October, 2022
25 years we have built a culture that is the product of strong values and purpose, empathetic leadership, and a place where all people feel they belong.
We care about the people we work with. We demonstrate that care with benefits helps you and your family stay healthy.  Explore our comprehensive benefits.
For us, integrity without compromise means that we strive to speak the truth and assume the best intentions.  Live your best life, inside and outside of work. 


Checkout other jobs @NCG
Apply below and our representative will get in touch with you.